Talking points can arrive when you least expect them. With a minute remaining of a humdrum, lethargic extra-time that Chelsea and Villarreal could clearly have done without, Thomas Tuchel made his first bold move of the season. Kepa Arrizabalaga, a £71m player named among the substitutes for the Super Cup, stepped forward to replace Edouard Mendy. Tuchel's strategy was to be fully justified as Kepa, at full stretch to his right, batted away Raúl Albiol's penalty to claim the trophy for Chelsea. The scale of celebrations from the Champions League winners – and the dejection easily visible among the Villarreal contingent – painted a picture of something that mattered.
Kepa's contribution, such a belated one, was crucial. And yet it will be a surprise if he plays against Crystal Palace on Saturday. "We needed to do what was good for the team," shrugged Tuchel. "Kepa has the better percentages at saving penalties." Data gurus have a lot to answer for.
With Romelu Lukaku set to begin imminently for Chelsea, Tuchel must be content. His team was dominant in the first half here, with the failure to fully capitalize on that pressure likely to be offset by the prolific Belgian striker's return. Villarreal, so pleasing on the eye under Unai Emery, offered considerably more threat in the second period but Chelsea looked – as should be the case – the superior side.
Chelsea vs Villarreal 2021
Chelsea vs Villarreal 2021: Tuchel had gone to great length during pre-match media duties to emphasize the significance of a fixture many would not unreasonably regard as a glorified friendly, even going so far as to suggest that he would be "angry" should any of his players treat Villarreal lightly.
This game was played amid a broader, uplifting context. There was a time when Belfast would never have been deemed suitable – or, to be precise, safe – for a marquee game such as this. Northern Ireland's societal growth, the redevelopment of Windsor Park itself and the nation's international football momentum as started by Michael O'Neill were all factors that made this venue choice sensible. European or global events need no longer be shielded from a city reborn.
Chelsea's supporters, many of them locally-based, understandably made up the bulk of the 13,000 crowds, but two significant pockets of Villarreal followers, in their striking yellow, added to the sense of occasion. That Emery paid no attention to the boundaries of the technical area, even during seemingly humdrum spells of the game, suggested he was also delighted at being here.
Chelsea vs Villarreal Super Cup Full Match: Tuchel sprung a slight surprise by deploying Trevoh Chalobah among a three-man defensive line. This marked the 22-year-old's first competitive start for Chelsea, after loan spells that have stretched from Ipswich to FC Lorient. Yet the Chelsea head coach had hinted before kick-off that unorthodox selections were likely.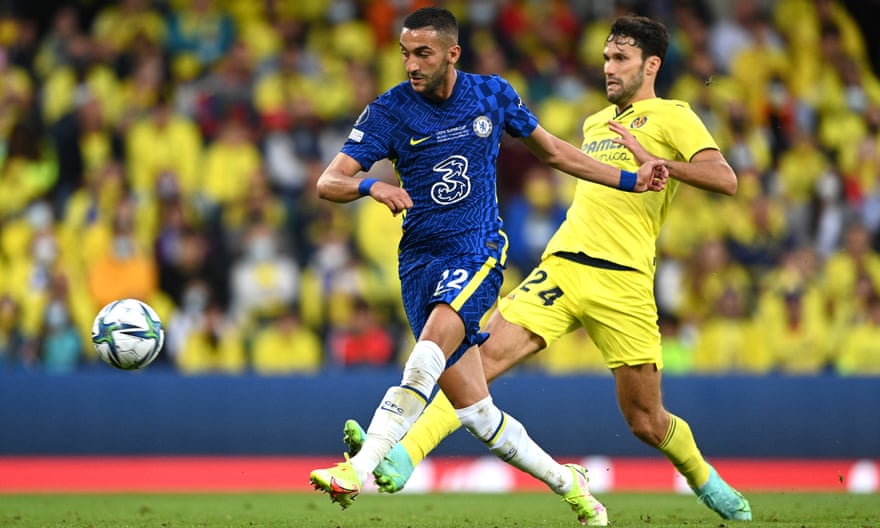 He believes Timo Werner will benefit from the experience of his first season in England. Wastefulness remains Werner's most significant issue; he should have scored from point-blank range after six minutes but instead allowed Sergio Asenjo to palm the ball away. As N'Golo Kanté flashed a 20-yard shot wide, Chelsea had an early grip of the game.
Chelsea Super Cup
Chelsea Super Cup: That much was emphasized by a wonderful opening goal. Marcos Alonso fed the marauding Kai Havertz on the left flank, with the latter delivering a menacing cross that narrowly eluded Werner. Hakim Ziyech appeared to stub his shot but, with Asenjo exposed, it found the net anyway. Emery's agitation was quite the sight.
Villarreal responded through the recently recruited Boulaye Dia. Mendy saved smartly at the feet of his fellow Senegal international. Chelsea fired back through Alonso and Kurt Zouma, who both had decent opportunities to double the lead before the interval. Seconds before the break, Alberto Moreno crashed a volley off the underside of the Chelsea crossbar.
Chelsea Super Cup 2022: By that juncture, Tuchel had received a yellow card for protests towards the referee and Chelsea had made an enforced change. Ziyech, hitherto a menace to the Villarreal defense, landed badly after challenging for a header inside his own penalty area. Christian Pulisic replaced Ziyech, who left the scene clutching his right shoulder. Tuchel later confirmed the injury seems "serious."
Villarreal came within the width of a post restoring parity, six minutes after the restart. A poor clearance from Mendy landed at the feet of Dia, who fed Gerard Moreno. With time and space to pick his spot from an angle, Gerard Moreno instead mixed up his angles. Villarreal was visibly boosted by the chance, Chalobah's last-ditch clearance necessary to prevent Dia from surely nodding home.
Villarreal was, though, to claim the equalizer their play at this point deserved. Dia supplied a glorious back heel that Gerard Moreno ran onto before clipping beyond Mendy. That glorious piece of attacking movement – assisted by Antonio Rudiger gifting possession to the Spaniards, it must be noted – had Emery dancing for joy. Rudiger later atoned by scoring Chelsea's final penalty.
Alonso came closest to winning the game for Chelsea in normal time, his fierce shot rippling the side netting. Pulisic fluffed his lines when it looked easier to score. Mendy did not look perturbed at all about being summoned towards the bench. "He accepted it," said Tuchel. Not that he really had much choice. Tuchel remains Chelsea's man with the golden touch.